From little acorns,
mighty oaks grow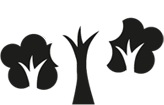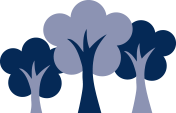 Palace Wood wins Green Award!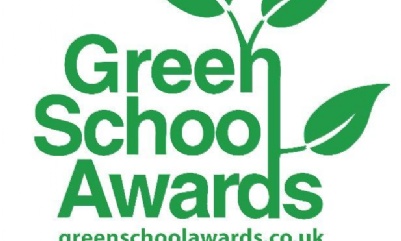 Further updates on Palace Wood's Eco-School Campaign.
Palace Wood wins award!
February 14th was not only Valentines Day but it heralded our very first Green Award. Our 'Switch off Campaign' back in November was judged to be 'the best energy conservation project' in Maidstone.
Mrs Kyte, Mrs Emmerson and three of the Global Gladiators went to Ashford International to accept the award on behalf of the school. There was much excitement all round. We are so proud of our school and how much we are achieving in this area in such a short space of time. The children of our school show great passion in all things conservation so it is lovely to see their efforts rewarded.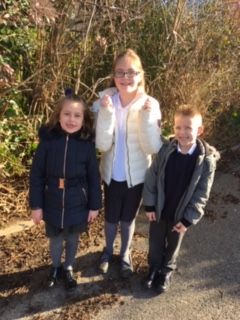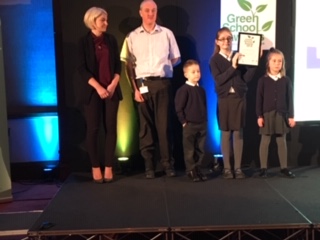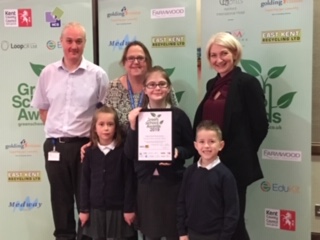 Clean Air Campaign
Most of you will be aware that the school are trying to promote walking to school or parking away from the school and walking part of the way. One of the many benefits is that this will help to keep the air quality as high as possible for our children during the school day.
We currently send pollution tubes away once a month as part of a campaign run by Maidstone and Tonbridge Borough Councils. There are information leaflets on the Global Gladiators page that give information about air pollution and its effects. When we get notification of the results we will post them. Currently the roads surrounding us are highlighted red!
The children recently designed posters for a house competition with the winner being sent off as our entry in a countywide competition. Whilst our school did not win, the winning entry from our school will be made in a 'Don't be Idle' banner to put outside the school as a reminder.
Winning entries from each KS and house will be posted here.
And finally...
We are excited to announce that we have joined the Terracycle family. After half-term we will be recycling crisp packets, biscuit/cake bar wrappers in school and bins will also be placed in both the car parks for you parents and the wider community. We will be sending them off for free to earn points for the school or to donate to charities of our choice. Either way we feel that encouraging the children to recycle (especially those wrappers that can't be at the moment) can only be a good thing! We hope you will support us in this.
Follow the link below to find out more information.